Nowadays, everybody has a LinkedIn profile which replicates accurately their resume. But how can you differentiate yourself from the others?
You will notice that few people have a summary on their page. Therefore, one of the best way to stand out from the crowd is to write and customize your summary.
Here at High Performers, we give you 5 tips to guide you to optimize and improve your LinkedIn profile summary.
1) WHAT SHOULD YOU WRITE IN YOUR LINKEDIN PROFILE SUMMARY?
There is many way to get the best out of your LinkedIn profile summary. You could do so by doing the following:
– List key words about your expertise, experience, skills and education to maximise your LinkedIn ranking for search by recruiters
-Write about yourself, explain your journey in the professional world and what makes you a valuable asset
-Show your creativity! Attach a creative presentation of you, tell a story, show yourself from a different angle and leave a special impression
2) HOW TO STAND OUT?
You already made the first step by deciding to write your summary! Now what to write to make your LinkedIn Profile summary special?
We recommend to explain here what drives you, what do you stand for, what is your mind-set, your objectives but most of all be genuine.
You can inspire yourself from the great examples that we have listed below, but also from your LinkedIn network. There are great LinkedIn profile summaries out there!
Finally, you can stand out by a call to action at the end of your summary. This call to action can be an invitation to connect, to help or to share a story.
3) DESCRIBE YOUR MIND SET AND YOUR MAIN SKILLS
The summary is an opportunity to use the key words which will help you to improve your LinkedIn Profile ranking. But be
You can also list special skills and knowledge that are not traditional in your industry and demonstrate why this is an asset to you.
Being able to show your mind set is one of the great advantage of the LinkedIn Profile summary and that could make the difference in the eyes of a potential recruiter!
4) ATTACH A PHOTO, A PRESENTATION OR A VIDEO
Did you know that you could attach documents in your summary? That's maybe the best tip to stand out make your profile come alive with some examples of your work or maybe a presentation of you! You can attach many different types of documents:
Video
Images
Audio
Presentations
Slide Shows
And More!
5) LAST BUT NOT LEAST, TALK ABOUT YOUR PERSONALITY AND YOUR PERSONAL INTERESTS
One of the best way to connect with a potential recruiter can be through personal interests. Actually, doing so will increase your likeability factor. The summary is an excellent opportunity to let you share what you love doing, what you are doing outside of work, what you are currently reading and maybe explain what is special about you and what your friend and family love in you.
If you want to read more about the topic, we recommend you the post "7 LinkedIn Profile Summaries That We Love (And How to Boost Your Own)" from the official LinkedIn blog.
Edit May 2020: Add a banner with a call to action or a description of your profile. Check mine here: https://www.linkedin.com/in/bouchernicolas/
Finally, as a bonus, we have attached here some examples of the best LinkedIn profile summaries.
LinkedIn Profile summary "short version"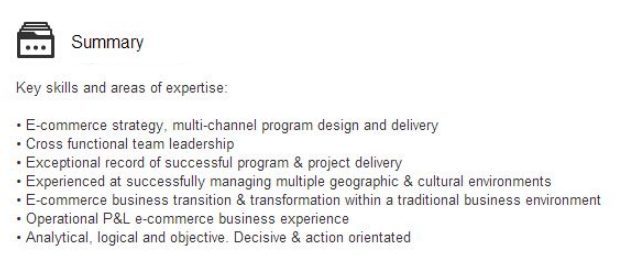 LinkedIn Profile summary with call to action
Bildergebnis für linkedin profile summary best
LinkedIn Profile summary "out of the box"
2014-6-12-linkedin-burda
If you liked this post it will mean a lot to me if you share it around. You can also leave a comment below to contribute with your ideas.