A budgeting process is an important tool for companies to help them plan for the future, monitor their performance, and control their costs. By creating and implementing a budget, a company can set itself up for financial success. Here you will learn what you need to do.
The Different Steps of The Budgeting Process
Here are the seven steps of the budgeting process.
Set expectations with management
Plan Sales
Operational Plan
Plan Resources
Compute Standard costs
Plan Overhead
Transform the budget into Financial Statements
#1: Set Expectations
Understand the expectations from management about:
Growth
Implementation of the strategy
Profitability
Lessons learned from the past
#2: Plan Sales
To plan the sales, you need to:
Choose the most appropriate method
Plan with sufficient details to be able to run an analysis
Pay attention to factors impacting changes
Ensure the accuracy of phasing
Prepare what-if analysis with impact on resources and profitability
#3: Operational Plan
To prepare an operational plan, you need to:
Plan production and delivery
Plan workload
#4: Plan Resources in the Budgeting Process
To plan the resources, you need to:
Plan direct headcounts & capacity
Plan material needs
Plan investments
#5: Compute Standard Costs
To compute the standard costs, you need to compute the following:
Direct labor: hours/unit and hourly rate
Material: quantity & price
Manufacturing overhead allocation
#6: Plan Overhead
To create a plan overhead, you need:
Department budget
Allocations of overhead costs
#7: Translate The Budget into Financial Statements
To translate your budget into financial statements, you need to prepare the following:
Income Statement
Balance Sheet
Cash
Communicate results and cascade down key figures and action plan
Bonus: Role of Finance
Coordination
Consistency
Documentation
Communication of targets and results
Conclusion – The Budgeting Process Is Easy If You Follow The Right Steps
The budgeting process requires time and effort, but it is not hard. Furthermore, if you take the right steps, you will complete it successfully for sure.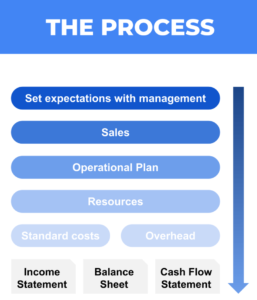 If you want to continue to learn about budgeting & forecasting, you can take my course. Additionally, the course contains all the practical knowledge you need about analysis, business partnering, and storytelling to accelerate your career as a finance professional.