A PowerPoint template is a pre-designed set of slides that can be used as a starting point for creating a new PowerPoint presentation. Furthermore, templates provide a consistent design and layout for presentations, making it easy for users to create professional-looking slides quickly and efficiently.
They can include backgrounds, color schemes, fonts, and other design elements that are already set up and ready to use.
Moreover, templates can be created by individuals or organizations and can be customized to meet specific needs. However, they can also be purchased or downloaded from a variety of online sources. As a result, using a PowerPoint template can save time and ensure that presentations have a consistent and polished look.
Do you want to make your idea more visual?
Do you want a quick solution to transform your PowerPoint presentation and make it more professional?
I worked on a free PowerPoint template to help you solve these issues!
Details of The PowerPoint Template
Here is what the free PowerPoint template includes.
Executive Summary of the PowerPoint Template
Description (High-level business objective)
Schedule (Current phase, project status, and accomplishments)
Costs (Total project budget, actual costs to date, estimates at completion, and variance at completion)
Risks
Proposed Solution
Here you need to write the solution to the problem step by step.
Step 1
Step 2
Step 3
Step 4
Step 5
Business Benefits
Project Organization
You can organize your project in a chart to have a better understanding.
Project Schedule
You can set your schedule in different phases. Furthermore, this will help you to do everything in the correct order.
3 Steps Graphic of The Project in The PowerPoint Template
You can divide the process into three steps graphic.
Communications Management Plan
This serves for better communication and management of the plan.
Key Risks and Issues
Here you can note all the potential risks and issues that may occur in the project.
Steering Committee Members
Here you can keep evidence of all of the members.
Action Item List
Here you will keep track of the actions, the owner, and the due date.
Next Steps
In this part, you will list all of the remaining steps you need to take.
Step 1
Step 2
Step 3
Step 4
Step 5
You can find the presentation here: Free Powerpoint Template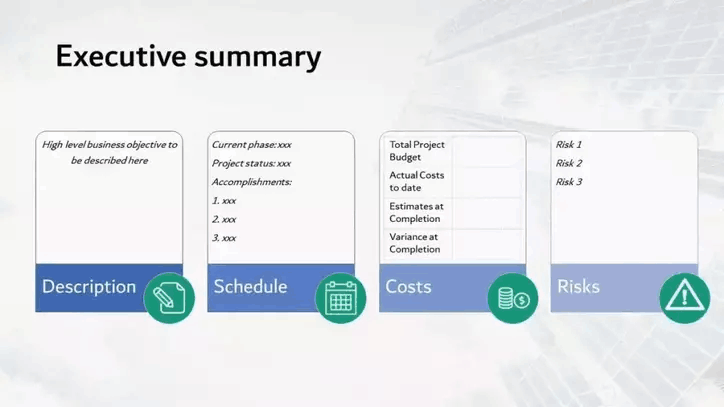 Additionally, you will find inside some great ways to present ideas, list topics, show a project schedule, etc and on top, I added some free icons!
Conclusion – This Free PowerPoint Template Will Help You Reach Your Goals
Using this PowerPoint template in your presentation guarantees that your material is presented logically and succinctly, allowing the audience to focus on the information as needed. Therefore, you will be able to display the facts in a much more practical way with the use of charts and graphs.
Also, it is very helpful in maintaining the company's reputation with both your clientele and the broader public. It enables you to logically draw attention to your business's advantages. Additionally, the PowerPoint template gives your presentation more authority.
If you want to receive more finance tips like this, feel free to sign up for my newsletter. If you subscribe, every two weeks, you will receive an email from where I share best practices, career advice, templates, and insights for Finance Professionals.